Dolans is an award-winning Traditional Irish Pub located on the Dock Road in Limerick with Live Irish music every night.
We have a Restaurant and three Live Music Venues (The Warehouse, Upstairs at Dolans and the Kasbah Social Club). We cater for groups of all shapes and sizes in our purpose built venues.
Our story - beginnings
The Dolans story didn't happen overnight. In over 20 years we have turned a small quayside pub on the outskirts of Limerick city into a key music institution recognised nationally and internationally. In December 1994, Mick and Valerie Dolan moved to Limerick with their two children Neil and Sarah.
Their vision was to create a pub that celebrated traditional Irish music every night, a put that created a platform for local musicians to showcase their talent. It was an overnight success.
"The Dolans traditional music offering has continued to be a popular attraction for local audiences as well as the many international visitors we welcome on a daily basis.
What started out as small pub programming traditional music has now blossomed into a multi-venue music destination".
Our team of experienced music bookers and promoters programme a schedule of live music seven nights a week, incorporating all genres from rock, indie and electronic to traditional, folk, country and roots music. This diversity attracts music fans from all walks of life – students, media professionals, and veteran music fanatics.
For over a quarter of a century this family team have strived to meet the demands of a diverse and loyal fanbase. In the intervening years Dolans have succeeded in creating venue which has become recognised as one of Ireland's leading music venues.
The Warehouse
1998 saw the creation of the Warehouse venue which was designed to accommodate national and international acts.
Dolans Warehouse has evolved to become our centrepiece, a venue that can adapt to suit medium sized gigs, seated intimate performances, spoken word events, comedy and club nights.
Our support for new local acts has reaped rewards. Band such as Hermitage Green, Fox Jaw, Windings, Emma Langford and the Rubberbandits all call Dolans their home.
The Warehouse has now gained an international reputation as a leading Irish venue for artists from across the globe.
It has played host to names such as Franz Ferdinand, Snow Patrol, Kasabian, The Darkness, Bob Geldof, Glen Hansard, Damien Rice, Damien Dempsey, Christy Moore, and Ian Brown.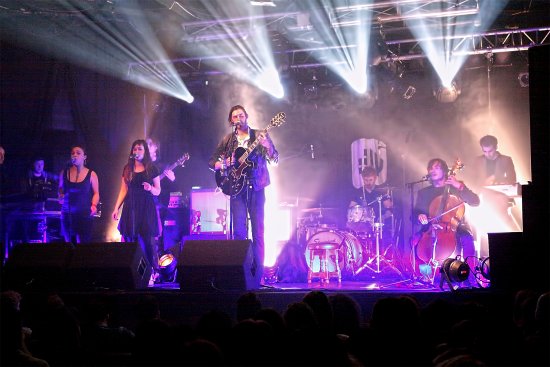 "We were there when upcoming Irish artists such as Hozier, Mumford and Sons, Glen Hansard, Ian Brown, Damien Rice, Damien Dempsey, Bell X1, Duffy and Mick Flannery were in their infancy.
As many of Ireland's top artists have become established we have continued to nurture these relationships".
Dolans Warehouse has also become one of the biggest spaces for comedy performances in the Mid-West welcoming acts such as Reginald D Hunter, Flight of the Conchords, Jason Byrne, John Bishop, Deidre O'Kane, Tommy Tiernan, Tom Greene, Phil Jupitus, Des Bishop and Dara O'Briain.
Upstairs @ Dolans
In 2004, Upstairs @ Dolans was added to the venue offering. Our intimate upstairs venue has become a mainstay for emerging artists allowing us to capitalise on our alternative music offering.
Boasting a state-of-the-art sound system this acoustic space gives a platform to upcoming new acts and has become home to Limerick Jazz Society.
Upstairs at Dolans has played host to weddings, christenings, funerals, birthdays and The Munster Supporter's Club legendary shindigs.
The Kasbah Social Club
The most recent addition to the Dolans mix was the Kasbah Social Club which was opened in 2014. Kasbah Social Club is an alternative music venue and pub.
It hosts some of the top national and international alternative music acts, with everyone from Duke Special to metal band Coltsblood.
Kasbah is home for many Bad Reputation Ireland metal gigs, Siege of Limerick and Limerick's LGBT community.
Kasbah Social Club is an all-purpose alternative venue. It is also available for private hire.